Jewish Futures Conference 2019: Pride & Prejudice

FUTURES HOME | CONFERENCE 2019 | PRESENTERS
---
Powered by The Jewish Education Project 
Pride and Prejudice: Jewish Education's Battle Amid Growing Anti-Semitism
Date: Wednesday, December 4, 2019
Time: 10:00 A.M - 3:00 P.M.
Location: New York University- Kimmel Center For University Life, 60 Washington Sq. South Suite 605, New York, New York 10012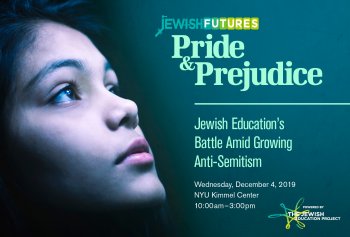 Join The Jewish Education Project for an exploration of how our community can encourage the development of proud, thriving Jews—in today's climate of heightened anti-Semitic rhetoric and violence. How will YOU-  whether as an educator, parent, or trusted adult- shift your approach to better address the sensibilities  of your students, children, and grandchildren. For today's Jewish youth anti-Semitism is a broader, more complex issue than it was for their grandparents.  
This past year, we bore witness to and felt the effects of devastation in Pittsburgh and Poway. Jewish Americans – especially educators and parents grapple with difficult questions in the aftermath of these shocking, fatal attacks…
- How do climates of fear and hate affect our learners' identity formation?
- How much should educators acknowledge acts of terror and anti-Semitism, versus shielding children from harsh realities?
- How do we teach about these attacks when Jewish teens are divided on whether these attacks were anti-Semitic, another episode of gun violence, or parallel to oppression that other communities face?
We'll tackle these questions and more with leading journalists, clergy, writers, mindfulness experts and more.
Questions? Contact Debbie Seiden.