Pride and Prejudice: Educational Resources on Anti-Semitism
FUTURES HOME | CONFERENCE 2019 | PRESENTERS | SELECTED RESOURCES
---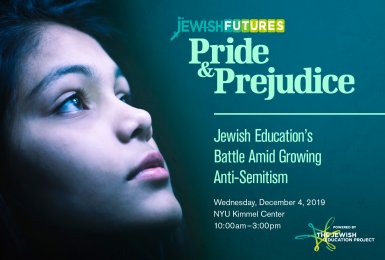 The following resources have been selected in tandem with and growing out of our Jewish Futures Conference 2019, Pride and Prejudice: Jewish Education's Battle Amid Growing Anti-Semitism. Further down this webpage, you'll find several Featured Resources that we will rotate from the full collection which we hope you will "Access and Explore" immediately below. This is a dynamic and changing resource guide that is designed to point you towards some of the significant and helpful resources that we believe you may find valuable.
ACCESS AND EXPLOREWe provide the full version as a Google Doc so that educators can add it to their Drive, if they want, or make a copy to work with on their own.
We also hope you will let us know how you use these resources in the weeks and months ahead. To share resources with us, or other thoughts about this guide, please email resourceguides@JewishEdProject.org.
 
---

Featured Resources

Antisemitism & Religious Intolerance | Facing History
One of many topic areas, this one has 112 resources and "finds connections between historic debates over religious liberty and contemporary global tensions over faith, identity, citizenship, and immigration. Using the history of antisemitism to start dialogue, we examine the power this ancient hatred has to shape thought, judgment, and behavior around the globe."
School Toolkit: Resources & Tools for Addressing Anti-Semitism, Intolerance & Bias | Jewish Community Relations Council (San Francisco and surrounding communities)
A curated list of articles, definitions, organizations, and specific teaching resources and programs (many of which are already listed in our guide), and most of them are national.
Antisemitism Unit Plan | Jewish Education Center of Cleveland | Grade: 6-12
From the educators and innovators of the rapid response curriculum, this unit provides opportunities to examine historical and contemporary anti-Semitism, using both traditional and contemporary Jewish texts and activities. It was revised and updated in 2018.
"Scary World" Webinar Recording | The Jewish Education Project
Our panel of educators with diverse experiences and perspectives explored how educational leaders and teachers could address sensitive and scary topics with youth of all ages and what concrete things educators could do for their learners and communities. Includes an extended Q&A from several of our panelists and educational resources.