Young Pioneers Award 2013 Recipients
YOUNG PIONEERS HOME | 2021 |2020 | 2019 | 2018 | 2017 | 2016 | 2015 | 2014 | 2013 | 2012
---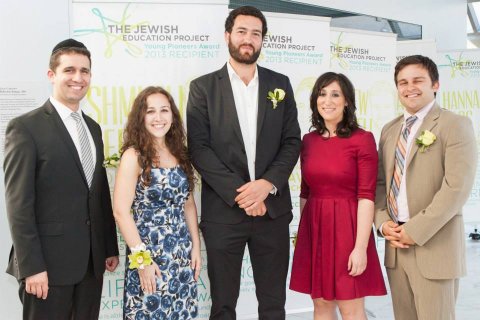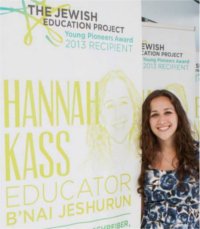 Hannah Kass is transforming Jewish learning at B'nai Jeshurun for children and their whole families. As an educator for 7th graders, and the leader of the "Rosh Hodesh: It's a Girl Thing" groups for 7th and 8th graders, Hannah helps "tweens" grapple with today's difficult Jewish questions and decision making regarding social justice and responsibility, identity, and intolerance.  
Her open communication with parents and community-wide programming encourages families to continue these conversations at home, ensuring that children are engaged Jewishly outside of the synagogue.  As part of the LOMED initiative, Hannah helps create educational opportunities for students that are inspired by the children's own questions and interests. 
She runs special learning and volunteer programs for the entire community on topics like Rosh Chodesh, Passover, and Yom HaShoah. She also fosters growth in other educators at BJ by creating and planning ongoing learning opportunities on behalf of their Professional Learning Team. She is devoted to the growth of her learners and helps children remain connected and passionate members of the Jewish community long after their Bar and Bat Mitzvah's.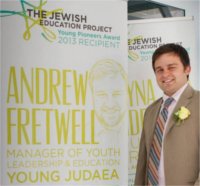 Andrew Fretwell took a lead role in rethinking a century old organization experiencing sustainability challenges and revitalizing its old traditions. Andrew, a former Project Incite fellow and long time Young Judaea member, has helped transform the organization by developing fresh programs and breathing new life into old ones.
Andrew has demonstrated extraordinary success in engaging teens using relevant topics such as Tikkun Olam, Zionism, community service, and non-denominational Jewish learning. He leads Young Judaea's Alternative Winter Break program, bringing teens across the country to learn and volunteer together. Due to the popularity of the program, he also created Alternative Summer Break at Young Judaea's summer camp, Tel Yehudah. 
Andrew continues to challenge the Young Judaea community to think outside the box and has inspired a true organizational rebirth.  As the rebuilding continues, it is clear that Andrew has inspired hundreds of teens and planted new seeds of sustainability for Young Judaea.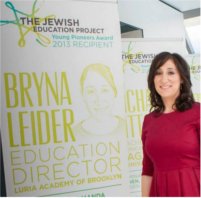 Bryna Leider is the founding director of Luria Academy of Brooklyn, the first and only Jewish Montessori Early Childhood and Elementary School in New York.  Under Bryna's leadership as Education Director, Luria Academy has expanded over the last five years from seven preschoolers to 100 students, ages 2-12.  
Bryna develops curricula that utilize the Montessori Method of individualized instruction for both General and Judaic studies, ensuring that no student is left out of a quality and personalized Jewish education.  This method builds curiosity in children so that they begin to explore topics on their own. It is not unique to see 3 year old children at Luria Academy even leading a classroom discussion. 
Committed to growth, Bryna leads the schools participation in The Jewish Education Project's DigitalJLearning Network to learn about online and technological tools for her school.  She has become a resource for educators and organizations who want to replicate Luria's model or learn from it, and was featured as one of The Jewish Education Project's Early Childhood In-Site-Ful Journeys visits, inspiring Jewish early childhood directors throughout New York with her unique vision.  Bryna's commitment to involving families in her school, has led to a real community among the Luria families. Bryna's innovative approach has made learning fun while fostering an environment where each child feels important and empowered.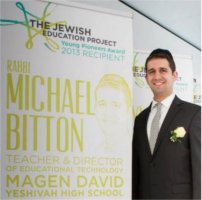 Rabbi Michael Bitton has mastered the art of student engagement through technology at Magen David Yeshivah High School. When Rabbi Bitton noticed his students spending much of their free time on social media websites, he began to experiment with using social sites where the students were already comfortable, such as Google Docs and Twitter, as places to share knowledge and have conversation on educational topics.  His successes with these tools led to the creation of his new position as Director of Educational Technology, allowing him to spread new techniques throughout the school. 
An active member of The Jewish Education Project's DigitalJLearning Network, Rabbi Bitton is always looking to expand his knowledge and share his expertise through the greater Day School community. As a result of Rabbi Bitton's efforts, students at Magen David are now benefitting from online reading tools, flipped classrooms, and digital portfolios. Rabbi Bitton has fostered an environment in which teachers seek opportunities to collaborate and develop technology based lessons and one where students are excited to come to school each day.
Update:
"I am now more involved in coaching teachers and leading professional development at Magen David. I have gotten very involved in Project Based learning and its effects on student engagement in the classroom. It has become my new passion in education. I also was honored to receive the Pomegranate prize from the Covenant foundation two months ago.
All in all things have been going great and I owe a lot of Hakarat Hatov for all that the Jewish Education Project has done for me." - Rabbi Michael Bitton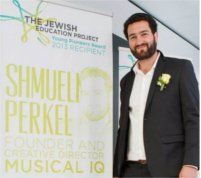 Shmueli Perkel has developed a new way to bring classic Jewish stories to life through music, dancing and drumming.  As the founder and creative director of Musical IQ, Shmueli uses music and rhythm in interactive workshops to provide rich learning experiences for children and families. Jewish Drum Tales, his popular Jewish themed program, delivers important ideas about Jewish culture, holidays, history and identity.
The program uses uses music and rhythm to help audiences relate to the stories in a deeper and more personal way. Some of the most popular programs include, The deLIGHTful Story of Chanuka and The Hearty Story of Purim, which bring audiences back in time to the original ancient settings. Shmueli's vision extends beyond Musical IQ, providing consultations to help teachers develop experiential programs of their own. Shmueli has brought new depth and spirit to Jewish learning that continues to invigorate children and families throughout New York and beyond.
Update:
In 2014, Shmueli brought Musical IQ and Jewish Drum Tales to over 210 institutions in NY, LA, Florida and Detroit.  He continues to expand these projects and create new ones. Currently, a program called Cornerstone is in the works, which will be a hands-on workshop and roll play to teach creative problem solving, team building and Jewish themes.
These bios reflect the work of the recipients at the time of the award.