Young Pioneers Award 2016 Recipients
YOUNG PIONEERS HOME | 2022 | 2021 |2020 | 2019 | 2018 | 2017 | 2016 | 2015 | 2014 | 2013 | 2012
---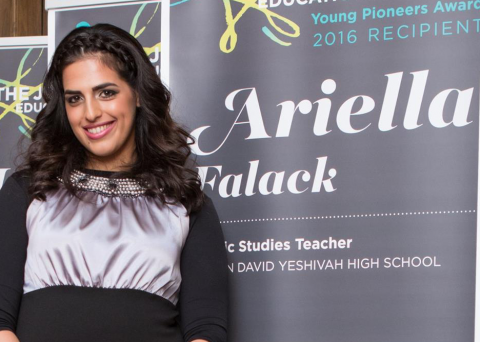 A teacher of Torah and Halacha at Magen David Yeshivah Celia Esses High School, Ariella Falack has been an early adopter of game- and project-based learning at the school. She engages her students in an environment of feeling, sensing and tasting the texts and lessons of the Torah, including physical activity, painting, coding, game making, flipped classroom, movie making, website building, book writing, and many more outlets. Social and emotional learning are integral components to her classroom structure. Ariella has participated in the Lookstein Center's Flipped Classroom Cohort, Sefaria's Educator Cohort, and is a curriculum developer for Tebah Educational Services.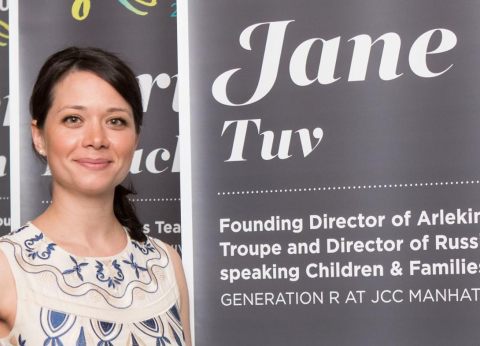 As the Director of Programs for Russian-speaking children and families at Generation R of JCC Manhattan and Founding Director of Arlekino Theater Troupe, Jane Tuv has brought joy to Jewish learning for Russian-Jewish families by merging her passion for theater and arts with experiential and child-driven learning. Under her leadership, program offerings catering to Russian-speaking Jewish families and children at the JCC tripled, with participants coming from all boroughs of New York for classes, holiday events, Shabbat dinners, and performances. Through Jane's meaningful programs for the Russian-speaking Jewish community and her dedication to high-quality, progressive early childhood education, a vast number of underserved Russian-speaking families who felt disconnected from the greater American-Jewish community, have shown a significant spike in involvement in Jewish life, and have brought the traditions experienced at Generation R programs into their home, including but not limited to Shabbat, Passover, and Hanukkah celebrations.
In addition to her role at Generation R, Jane is the founding director of Arlekino Theater Troupe, a performing and fine arts program, which strives to instill an appreciation for Jewish heritage and the arts in young children whose parents emigrated from the Former Soviet Union. She has partnered with more than 20 Jewish organizations in the Tri-State Area to bring expressive arts education to the Russian-speaking Jewish diaspora. An informal Jewish educator, Jane designs programs with a focus on the Reggio Emilia approach, nurturing children's curiosities, imagination, and self-expression.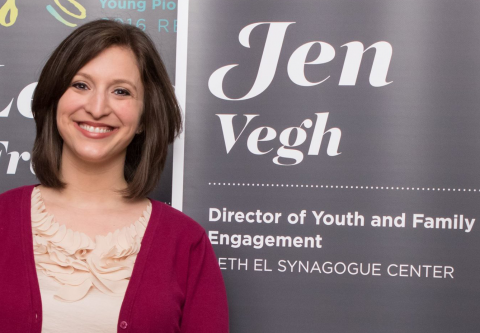 Jen Vegh, Director of Youth and Family Engagement at Beth El Synagogue Center in New Rochelle, is changing the way youth and families connect with synagogue life and Jewish learning. Jen has empowered educators and youth advisors to develop creative learning and social opportunities for the children of Beth El by utilizing outdoor space and building meaningful relationships with both children and families.
Perhaps one of the greatest changes Jen has made in the religious school is committing to meet the needs of every learner.  After her experience in the Matan Institute for Congregational Educators First Cohort, Jen brought in a learning specialist and began training educators to shift practice to better understand learners as whole people with different needs and styles.  Her openness to trying new techniques and differentiated learning has created an environment where every child feels like they belong. Jen brings positivity and enthusiasm to her work and an ability to lead with both vision, goal oriented practice and attention to detail that has tremendously impacted Beth El's youth and families.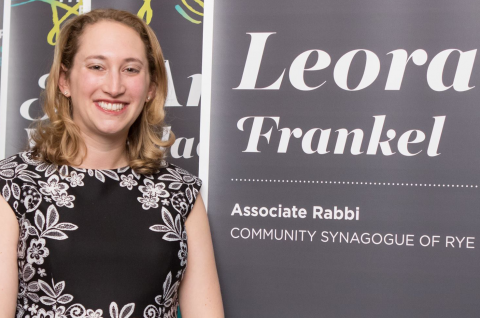 Rabbi Leora Frankel, Associate Rabbi of the Community Synagogue of Rye and a Rabbis Without Borders fellow, has deepened teen engagement at the synagogue and reinvigorated the post-B'nai Mitzvah programs through original teen learning experiences like on-site internships and camp models of learning. Among the new teen initiatives she has helped launch are a Teen Philanthropy Foundation, the "M.I.T.- Madrichim-in-Training" (teaching assistants) course, and a pilot cohort of Teen Mentors working with upcoming B'nai Mitzvah students.  Rabbi Frankel has also partnered with The Jewish Education Project to bring together the teens from four local congregations for a series of hands-on Social Action Sundays. She has transformed the teen program to include multiple pathways to Jewish learning and leadership and infused the joy and magic of Jewish summer camp into the congregation.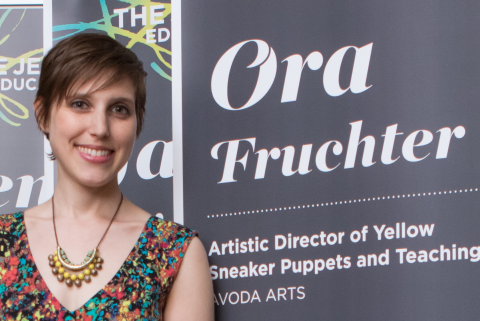 Ora Fruchter is a Brooklyn-based puppeteer, performer, director and educator, and a Teaching Artist for Avoda Arts. Ora writes and performs regularly with her companies Yellow Sneaker Puppets and Doppelskope, which use puppetry and music to create innovative and engaging experiences for all ages. Ora's work in Jewish communities is built on the idea that self-expression and collaboration are crucial elements of the Jewish study experience. Ora harnesses the magic of storytelling, puppetry, music, and everyday objects to facilitate engagement in meaningful and creative study for people of all ages. You can check out her Jewish educational work, including Tabletop Torah – creative Torah text study through object theater - on www.yellowsneakerpuppets.com.