Robert M. Sherman Young Pioneers Award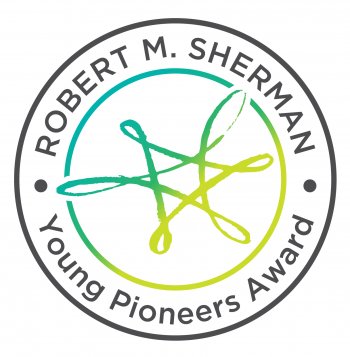 YOUNG PIONEERS HOME | 2021 RECIPIENTS | 2020 | 2019 | 2018 | 2017 | 2016 | 2015 | 2014 | 2013 | 2012
---

The Jewish Education Project Robert M. Sherman Young Pioneers Award celebrates forward thinking and innovative educators age 40 and under, who demonstrate a personal and professional commitment to new ideas, and proven use of technology or other innovative approaches to inspire children, teens and families. Meet the 2021 recipients of the Robert M. Sherman Young Pioneers Award.
Eligibility Criteria and Qualifications
Recipients will be chosen based on:
A commitment to original, innovative ideas that address learning challenges
Alignment with The Jewish Education Project's mission to inspire and empower educators to create transformative Jewish experiences
Proven use of new approaches to inspire students and/or families and to improve learning climate
Engaging colleagues and leadership to embrace new ideas
Designing or implementing new educational initiatives that lead to observable and measurable changes 

Nominee must:
Work with children or teens (age 18 or under), in a Jewish educational context, including but not limited to: Early Childhood Education, Teen Engagement, Congregational / Complementary Learning, Day School Education, Family Engagement, or Jewish Camp
Work in New York City (all 5 boroughs), Westchester or Long Island
Be age 40 or below on/before April 2, 2020
Be nominated by a supervisor, colleague or other professional contact
Be available to attend in person event on the following dates in 2020: A reception dinner for Young Pioneers Award recipients on Feb. 11th and The Jewish Education Project benefit on April 2nd. 
Not have been employed by The Jewish Education Project since November 2018

Recipients and their organizations will receive:
$1,000 Professional Development stipend for the award recipient 
Special opportunities to connect with other innovative Jewish educators throughout the year
Public recognition at a ceremony at The Jewish Education Project benefit and in promotional materials
Recipients will be recognized at our annual celebration to benefit The Jewish Education Project.
About the award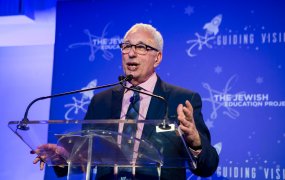 The Young Pioneers Award is named for Robert M. Sherman, the CEO of The Jewish Education Project from 2007 until July 2019. During his tenure, he launched the Young Pioneers Award and several new initiatives at The Jewish Education Project. Since 2012, the Robert M. Sherman Young Pioneers Award has recognized 40 Jewish educators from greater New York that push the boundaries in Jewish education. Recipients work in day schools, camps, youth groups,  supplementary schools, community centers, seminaries and in foundation settings.