Young Pioneers Award 2014 Recipients
YOUNG PIONEERS HOME | 2022 | 2021 |2020 | 2019 | 2018 | 2017 | 2016 | 2015 | 2014 | 2013 | 2012
---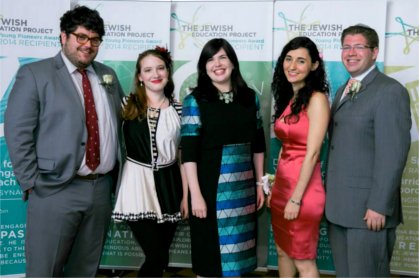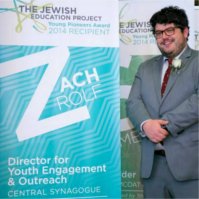 "Zachary Rolf has made an enormous difference at Central Synagogue and is beloved and respected by our kids and amongst his colleagues. The Young Pioneers Award acknowledges the extraordinary attributes Zach brings to Jewish life and education and we celebrate this well-deserved recognition." - Rabbi Peter J. Rubinstein, Central Synagogue
Zachary is changing the way teenagers engage with their Jewish community as a part of Central Synagogue, in the heart of Manhattan.  As Director for Youth Engagement and Outreach for students in third to twelfth grade, Zach has led a transformation in the congregation's youth programming culture.  The crown jewel of the youth program has become the study trip curriculum that Zach has created, with both domestic and international travel opportunities beginning with eighth graders. 
In the last four years, over 250 Central Synagogue teens have had the opportunity to travel to local and international locations including New Orleans, Washington, D.C., Paris, Israel, Belarus, Prague, Amsterdam, and Berlin.  Under Zach's leadership, there have been major successes in post-b'nei mitzvah engagement. Central Synagogue's confirmation class has grown from 12 students to almost 40, the largest they has seen since the 1960's.  Additionally, the multiple youth groups have provided opportunities for elementary students to engage Jewishly outside of the classroom. 
The common denominator for all of these accomplishments is the relationship formed between students and the congregation – with peers, educators, and clergy. Zach has created dynamic options for students at any age and has made the synagogue community relevant and important to children and teens.
Update:
Zach is currently the Director of Central Synagogue's religious school, the Lese Center for Living Judaism.
"Receiving the award has certainly influenced the way in which I do my work. It has encouraged me to see myself as a leader in the field of Jewish education and has given me name recognition both within the city as well as nationally," said Zach.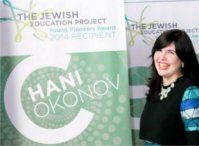 "Chani Okonov continues to revolutionize Jewish Education in the Russian Jewish Community through her vision, determination, leadership, and love of children…Through their children, parents of  Mazel students are learning more about Jewish life and values.  This acts as a catalyst which enables parents to explore more deeply, what Jewish identity and practice means for them as a family." - Gennady Favel, Board Member for Mazel Day School
Chani is the Co-founder and Educational Director of Mazel Day School (MDS), a growing day school in South Brooklyn catering primarily to Russian-speaking Jewish families and their unique academic needs. Under Chani's leadership, the school has grown from just three children in 2002, to 14 classes and over 170 students today.  Known for its warm environment and child-centered approach, MDS also maintains high standards in professionalism, academic achievement and engaging learning experiences.  
As a member of The Jewish Education Project's Day School Collaboration Network, Chani continues to be open to new ideas to strengthen her school.  Chani is a key participant in The Jewish Education Project's Parent to Parent initiative and has successfully engaged the parent body to become partners with school leadership.  Her work reaches beyond the students in MDS to their parents, extended family, and the greater Russian Jewish community.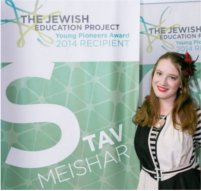 "It is not a single method that makes Stav innovative, but rather the bringing together of so many different elements in one class…She is a Jewish educator that gives the children a view of the Jewish world that serves them far beyond the classroom." - Shira Averbuch, Nominator
Stav is the Founding Director of  Dreamcoat Experience, an award-winning organization that brings experiential, creative educational programs for children to synagogues, Hebrew schools and Jewish communities throughout New York. As a performer and teaching artist born and raised in Israel, Stav specializes in weaving her artistic skills into her teaching methods, using circus, drama, music, dance, and yoga to teach Hebrew, Torah, Israeli culture, and Jewish values.
Whether she teaches children about mitzvot using juggling or about Torah stories using human pyramids, she brings creativity to all elements of her teaching. Stav utilizes a child's natural, playful spark to enhance their learning experience, while also helping them develop their imagination, motor skills, coordination, and collaboration.  As part of this work, she has recently joined The Jewish Education Project's Coalition of Family Engagement Innovators. When Stav is not teaching she proudly juggles (no pun intended!) a career in the performing arts as a stage and circus performer.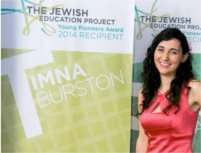 "Timna Burston is an outstanding educator who brings her commitments to art, creativity, Jewish learning, Israel and Hebrew together in a powerful combination where each part is outstanding but the whole is even greater than the sum of the parts. We are so excited to have her on our educational team and to celebrate this well-deserved honor that points to a tremendous career in the field." - Rabbi Andrew S. Davids, Principal at Beit Rabban Day School
Timna is an Art Educator who focuses on combining the arts with Jewish and Israeli culture in a variety of settings. Timna served as Youth Director and teacher at Congregation Kol Ami in Westchester, a member of The Jewish Education Project's Coalition of Innovating Congregations.  There, she created engaging programs for teens, often integrating her love of art. She designed a series of art classes exploring Jewish themes, from interpreting Bar/Bat Mitzvah portions to creating Jewish comics about heroes and monsters. She also led activities for adolescents in the greater community, including a social justice trip to Costa Rica, volunteer projects to feed the homeless, and lobbying trips to Washington, D.C. 
Timna has recently begun a new role at Kol Ami, reimagining the Hebrew curriculum for Kindergarten through third grade and creating an innovative Hebrew immersion program that utilizes the arts. Timna also teaches art at Beit Rabban Day School, a Jewish elementary school, where she has joined with Hebrew teachers to find bridges between the Hebrew language and the arts curriculum. In addition to her work with children, she co-founded Jewish Eyes on the Arts, a group devoted to exploring the Jewish ideas that can be found in arts and popular culture.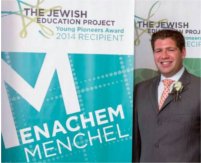 "Menachem Menchel truly represents and elevates the values and mission of our Bayit (Home) to create a safe, welcoming, Torah-enriched environment for all. Menachem works tirelessly to create this for our youth and their families. We're so grateful to see Menachem's hard work and exceptional talents recognized with this award." - Rabbi Steven Exler, Hebrew Institute of Riverdale
Menachem is the Director of Youth Education and Programming at Hebrew Institute of Riverdale (HIR), designing and coordinating the youth programming for 800 families with creativity and enthusiasm.  Menachem has made innovative changes to synagogue programming at multiple levels, including incorporating more technology, creating experiential programs that allow children to become comfortable in a synagogue setting, and empowering children and teens to take ownership of their synagogue experience. 
Menachem has the unique ability to create educational programs that cater to the needs and challenges of every age group within the synagogue. He has integrated children's programs into the greater community, both within and beyond his institution, by involving parents, other synagogues, senior residences and non-profits.  His innovative programs have led to higher attendance at social events and increased enthusiasm and participation at prayer services. 
Despite concerns that kids were too busy after school to attend synagogue programs, attendance has continued to increase under Menachem's leadership.  Menachem also successfully overhauled the teen program to give teens more autonomy, leadership training, and a greater sense of collegiality.  Menachem's ability to combine fun and learning has led to smartly-crafted, kid-friendly, and profound educational programs that have had an impact on the entire synagogue community.
Update:
"My position at the Hebrew Institute of Riverdale has expanded and I now oversee all synagogue programming (adult, older adult, family, community engagement) in addition to my role overseeing youth and teens." - Menachem
These bios reflect the work of the recipients at the time of the award.