Webinar: 10 Suggestions for Educators in a Hurting Era
A Jewish Futures Post-Conference Webinar with Ariel Burger
As we work to nurture and empower our students, we are also managing our own responses to the challenges facing our communities, our society, and our world. Building on his talk at the Jewish Futures Conference, and inspired by the legacy of his teacher Elie Wiesel, author and educator Ariel Burger shares ten unique and counter-cultural suggestions for teaching with spiritual efficacy in troubled times. Topics include how to cultivate empathy, a new sensitivity to the language that we use, and the power of vulnerability.
Click for a PDF copy of the webinar slides.
Moderated by Malka Fleischmann, our Director of Knowledge and Ideas (Recorded 12.17.19). Be sure to listen to Ariel's conversation with Malka in Episode 2 of The Thought Experiment Podcast.
ABOUT OUR PRESENTER: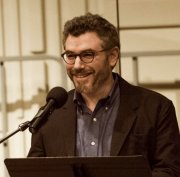 Ariel Burger, is the author of Witness: Lessons from Elie Wiesel's Classroom, which was an Indie Next List Pick, A Publishers Lunch Buzz Book, and which won the 2019 National Jewish Book Award in Biography. He is also an artist and teacher whose work integrates education, spirituality, the arts, and strategies for social change. An Orthodox rabbi, Ariel received his Ph.D. in Jewish Studies and Conflict Resolution under Elie Wiesel. A lifelong student of Professor Wiesel, Ariel served as his Teaching Fellow from 2003-2008, after which he directed education initiatives at Combined Jewish Philanthropies of Greater Boston. A Covenant Foundation grantee, Ariel develops cutting-edge arts and educational programming for adults, facilitates workshops for educators, consults to non-profits, and serves as scholar/artist-in-residence for institutions around the U.S. When Ariel's not learning or teaching, he is creating music, art, and poetry. He lives outside of Boston with his family. Visit him at www.arielburger.com.