Ora Bayewitz-Meier - Young Pioneers Award Recipient 2019
Ora Bayewitz-Meier, SAR High School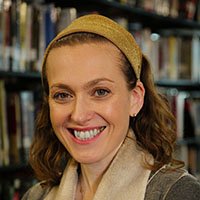 Ora Bayewitz-Meier teaches Advanced Placement Art History, English Literature and Writing, Literature and Film Senior Elective, and co-teaches the Drawing from the Text Judaic Studies Senior Elective at SAR High School in Riverdale, New York. She is also the Founding Coordinator of Chesed Programming at SAR High School.
Ms. Bayewitz-Meier founded SAR's annual student-led film festival in 2018. She established an ongoing partnership with LUNAFEST® for the festival and received a microgrant from The Jewish Education Project to assist in funding. Additionally, Ms. Bayewitz-Meier and her Drawing from the Text co-teacher plan all aspects of a Jewish text publication that features her students' visual interpretations. As the Founding Coordinator of Chesed Programming, Ms. Bayewitz-Meier also manages and drafts proposals for community service competitions, which has resulted in SAR's national recognition and awards from the New York Blood Center and Altice Charity Champions Program.
Prior to joining SAR in 2007, Ms. Bayewitz-Meier founded and headed the expansion of Project Sunshine's national hospital literacy program, Book Buddies. Ms. Bayewitz-Meier received her M.A. in English Education in 2007 from Teachers College, Columbia University and earned her B.A with a major in Art History in 2006 from Barnard College, Columbia University, Summa Cum Laude, where she was Phi Beta Kappa.
From the Recipient: 
"I value the ways that literature, art, culture and community service inform and deepen my religious practice. As an educator, I apply this interdisciplinary approach to engage my students in our shared learning and volunteering. I have always felt fortunate to teach at an Orthodox Jewish institution that supports this type of student-centered learning. Earning The Jewish Education Project's Young Pioneers Award underscores for me the importance of utilizing student strengths and creativity in the classroom and the community at large and is consistent with my passions."
Reflections from Colleagues: 
"We are so proud to have one of our faculty members celebrated for her innovative and creative spirit! Ora Meier has built programs that have helped shape SAR's community and culture. Her work in creating our Chesed program and establishing relationships with a myriad of institutions and agencies has empowered our students to change the world through hours spent in hospitals, with special needs students, at nursing homes, and in soup kitchens.  Her creativity in the classroom has provided students with the opportunity to analyze Jewish texts through their drawing as well as films and their storytelling techniques. Mazal tov, Ora! May you go from strength to strength. " Rabbi Tully Harcsztark, Principal, SAR High School, Dean, Machon Siach
 
---

YOUNG PIONEERS 2019 | RENA ALLEN | ORA BAYEWITZ-MEIER
RACHEL FIGURASMITH | RABBI MAURA LINZER | REBECCA SCHOFFER