Rebecca Schoffer - Young Pioneers Award Recipient 2019
Rebecca Schoffer, 92nd Street Y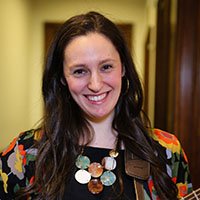 Rebecca Schoffer is a musical and experiential Jewish educator, a singer songwriter and a playwright of Jewish family theater. She is the Director of Jewish Family Engagement and the leader of the Shababa community at the 92nd Street Y in Manhattan. Founded in 2007 by Karina Zilberman, 92Y Shababa celebrates the intersection between ancient Jewish tradition and the needs of modern families by creating playful, soulful Jewish family experiences for all generations. Rebecca brings her background in theater, acting, music and improvisation to her work, creating spaces where hundreds of kids, parents, caretakers and grandparents come together every week to celebrate Jewish life through interactive music and movement. In addition to her weekly Shabbat celebrations, Rebecca also leads High Holiday services, Passover Seders, baby naming ceremonies, concerts, mitzvah troupes and many other joyful Jewish celebrations for families. She sings as a cantorial soloist during the 92Y High Holiday season.
In her original music, Rebecca weaves psalms, prayers and Jewish concepts into upbeat contemporary melodies. In 2015, she and Karina Zilberman released their first collaborative album "Shababa of the Heart." Rebecca plans to produce another album in the near future.  Rebecca is also a theater director and playwright of family musicals, including "Bagels from Benny the Musical" and "Sammy Spider's First Mitzvah the Musical!" co-written with Joel Esher and based on the beloved PJ Library books by Aubrey Davis and Sylvia Rouss.  She is a alumna of Tufts University and the Atlantic Acting Conservatory. Born and raised in Margate, New Jersey, Rebecca now lives in New York City with her husband Jonathan and son, Sam.
From the Recipient: 
"I feel so grateful to be a part of a community that celebrates innovation and imagination. I am inspired to continue exploring ways to help people connect with Jewish life and each other."
Reflections from Colleagues: 
"As an institution founded on serving the community and bringing people together, 92Y is proud to receive recognition for our innovative Jewish family programming. Rebecca Schoffer continues to reimagine Jewish family life in a way that resonates, creating caring, socially conscious children and families inspired to connect with Jewish values for a lifetime. "- Henry Timms, President and CEO, 92nd Street Y 
"92Y is thrilled that Rebecca Schoffer has been acknowledged with its Young Pioneers Award. Rebecca's extraordinary talent and commitment to Jewish families is at the heart of the Shababa community. We're proud that her vision has been recognized by The Jewish Education Project." – Rabbi Peter Rubinstein, 92nd Street Y Director of Jewish Community and Bronfman Center for Jewish Life
 
---

YOUNG PIONEERS 2019 | RENA ALLEN | ORA BAYEWITZ-MEIER
RACHEL FIGURASMITH | RABBI MAURA LINZER | REBECCA SCHOFFER