Rabbi Maura Linzer - Young Pioneers Award Recipient 2019
Rabbi Maura Linzer, Temple Beth El of Northern Westchester
JOIN US IN CELEBRATING MAURA AT OUR BENEFIT ON APRIL 11TH!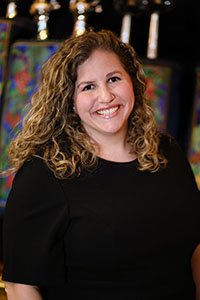 As Associate Rabbi-Educator of Temple Beth El of Northern Westchester, Maura Linzer has dedicated her rabbinate to building positive Jewish memories in a family-centered, experiential, and inclusive environment. Under her leadership, she built a madrichim program of more than 45 teen volunteers, whose primary focus is to assist the 30 percent of students who have unique learning or emotional needs.  Beth El's Religious School has become known for its experiential learning units, Artist-in-Residence Programs, which expose the students to music, yoga, mural art, theater, pottery, and dance. Additionally, there is a large number of lay volunteers, including more than 50 parents who are regularly involved with school and social youth programming.  
Rabbi Linzer was ordained at the Cincinnati campus of Hebrew Union College-Jewish Institute of Religion (HUC-JIR) in 2012.  She received an MA in Hebrew Letters from HUC-JIR in 2011 and an MA in Religious Education from the New York Campus of HUC-JIR in 2013. She is very passionate about Israel and Jewish peoplehood education and has built an innovative Israel educational curriculum that delves deeply into the nuances of modern Israel.  Rabbi Linzer studied abroad at Hebrew University in Jerusalem in 2005 and also earned an MA in Middle Eastern Studies from Ben Gurion University of the Negev in Beer Sheva, Israel in 2010. Rabbi Linzer graduated with honors with a BA from Washington University in St. Louis with majors in Psychology and Jewish, Islamic, and Near Eastern Studies and a minor in Modern Hebrew.  She lives in Pleasantville, New York with her husband, Liad, a mechanical engineer, her daughter, Sarah and her son, Ori.
From the Recipient:
"Being named a Young Pioneers Award recipient encourages me to continue to inspire and innovate in the field of Jewish education.  This award acknowledges the significant influence that an engaging and inclusive supplemental school can have on the lives of Jewish youth and teens."
Reflections from Colleagues: 
"Rabbi Maura Linzer embodies each of the qualities highlighted in the Young Pioneers Award.  Within a short period of time, she has transformed what had been a staid program into an interactive, creative and collaborative one in which our students look forward to entering our building.  Rabbi Linzer brings her unique blend of wit, thoughtfulness, humor and care to all that she does.  She has also succeeded in engaging members of our congregation as lay leaders and partners in building Temple Beth El into a place in which our students always feel welcome.  She is admired and appreciated by our teachers, parents, students and perhaps most of all, colleagues.  We are so fortunate to have her as a member of our team." Rabbi Jonathan Jaffe, Senior Rabbi for Temple Beth El of Northern Westchester
 
---

YOUNG PIONEERS 2019 | RENA ALLEN | ORA BAYEWITZ-MEIER
RACHEL FIGURASMITH | RABBI MAURA LINZER | REBECCA SCHOFFER