Rachel Figurasmith - Young Pioneers Award Recipient 2019
Rachel Figurasmith, Repair The World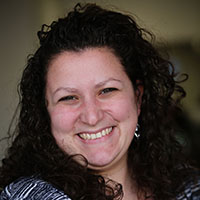 Rachel Figurasmith is the Senior Educator at Repair the World, where she works with families of all ages throughout New York City.  Rachel holds a Masters Degree from the Jewish Theological Seminary, a Bachelors Degree from Hampshire College, and is a trained special educator. She has worked with children in Kenya, South Africa, Atlanta, Massachusetts, and beyond. She has worked as a teacher, after-school director, caseworker, advocate, trainer, and inclusion consultant. Throughout her career, Rachel has weaved a common thread of commitment to social justice and community-based education, and is a fierce disability and racial justice advocate. A born-and-bred New Yorker raised by Jewish Brooklyn-ites, Rachel is thrilled to have settled into working at the intersection of her passions in her hometown.
At Repair the World, Rachel oversees a robust calendar of programming for families to volunteer in Central Brooklyn and Harlem neighborhoods on farms, in soup kitchens, at local schools, in community centers, and more. Rachel is passionate about social justice education, and frequently develops new modalities for learning. In 2018, Rachel received a Seeds of Innovation grant from the Jewish Theological Seminary that has allowed her to develop new content to support parents in engaging in difficult conversations with their children. Rachel's favorite part of her work is watching the moment when difficult concepts "click" for children right in front of her eyes, and when she is able to see them internalize what they've learned and integrate new ideas into their home and family lives. Rachel lives in a very colorful home with her husband, daughter, and two noisy dogs on Long Island.
From the Recipient: 
"Receiving The Jewish Education Project's Young Pioneers Award signals an acknowledgment of how critical it is for young people to be educated about social justice within Jewish communities. It is such an honor to be recognized as a leader in the bridge between meaningful community service and inspirational Jewish learning, as we raise a generation of caring children." 
Reflections from Colleagues: 
 "The Repair the World team is proud and excited to be pushing as hard as we can to bring innovative, experiential, Jewish education into our models of youth and family engagement. We've known for a while that Rachel brings breakthrough capacity to this work, and we see her selection as a Young Pioneer by The Jewish Education Project as an important affirmation of our progress and impact." David Eisner, CEO of Repair The World
 
---

YOUNG PIONEERS 2019 | RENA ALLEN | ORA BAYEWITZ-MEIER
RACHEL FIGURASMITH | RABBI MAURA LINZER | REBECCA SCHOFFER