Carly Namdar - Young Pioneers Award Recipient 2020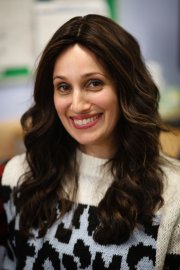 Carly Namdar is the Director of Middle School Guidance at Hebrew Academy of Long Beach (HALB).  Carly has been involved in the Jewish educational community in the US and in her hometown of Melbourne, Australia for the last fifteen years.  Carly was a Dean's Scholar at the University of Melbourne, Australia, where she completed a BA in Psychology and Judaic Studies, and then a Master's in School Psychology at Touro College, after moving to New York.  Carly is currently completing her doctoral studies in Jewish Educational Leadership and Innovation at Yeshiva University, as a means to combine her passion for Jewish education and psychology, and promote holistic wellbeing throughout school communities.  Carly is a proud alumna of the UJA Graduate Fellowship Program, and a Hidden Sparks Learning Coach.  In the summer, Carly is a psychologist in OHEL's Camp Kaylie, an inclusive camp experience for campers of all abilities, and provides training to staff and social-emotional support to campers.  
Carly has extensive experience teaching life-skills classes, delivering and coordinating social-emotional learning and informal educational programming, and implementing counseling and interventions to address students' social, emotional and academic needs.  Carly has recently engaged in a multi-level collaboration with mental health support-based communal institution OHEL Children's Home and Family Services, on an initiative to address the significant increase in anxiety among today's children and adults, as HALB Middle School has become the pilot school for OHEL's Anxiety Prevention program.  Recognizing that middle school is a time when many students are vulnerable to developing anxiety, establishing a communal partnership has provided greater access to mental health education and support for students and faculty, particularly by teaching students a wellness and resiliency-based curriculum as they transition to the Middle School.
Carly is bridging the work of positive psychology and Jewish education to introduce students and faculty  to ideas related to cultivating character strengths, building resilience and breaking down stigma associated with mental health.  Carly is committed to nurturing a school environment that promotes empathy, concern for others, social cohesion and support for all kinds of learners.  By working together with students and faculty in a collaborative manner, creating student-centered programming and increasing education and awareness of students' strengths and coping abilities, Carly is working towards fostering students'  self-awareness, self-advocacy and building skills to navigate their ever-changing world.  
From the Recipient: 
"I am truly grateful, honored and humbled to be receiving the Jewish Education Project's Robert M. Sherman Young Pioneers Award.  This is empowering for the field of mental health, and speaks to the increasing need to enhance learning experiences related to social-emotional wellness, student strengths and supports within our schools.  I feel blessed to be able to contribute to this important work, and inspired to continue to promote thriving and flourishing within the Jewish educational community."
Reflections from Colleagues: 
"We are so proud that Carly Namdar, our Director of Middle School Guidance here at HALB, was selected as the recipient of the prestigious Robert M. Sherman Young Pioneers Award of the Jewish Education Project for 2020.   Carly is well deserving of this honor, and we are so grateful to her for all she has accomplished. This award means so much to us as an institution. It symbolizes our ongoing commitment to ensuring that each and every student at HALB is educated upon a foundation that recognizes the importance of positive psychology and overall well being. It has become clear to all modern day parents and educators that this is the issue of our day when it comes to raising healthy, flourishing children, and HALB is proud to be taking a proactive, 21st century approach."  Rabbi Adam Englander, Head of School, Hebrew Academy of Long Beach 
Video by Shulamit Photo + Video
---
YOUNG PIONEERS AWARD 2020 | LAUREN BELFERDER | CARLY NAMDAR | DINA NEWMAN | PHREDDY NOSANWISCH | JONATHAN SHMIDT CHAPMAN