Lauren Belferder - Young Pioneers Award Recipient 2020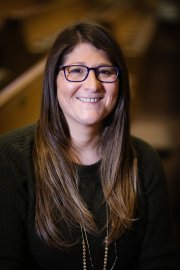 Lauren Belferder, better known as "Lulu", serves as the Director of Youth Engagement at Temple Sinai of Roslyn on Long Island.  In this role Lulu is changing the way youth and teens connect with their synagogue and the larger Jewish community. 
Lulu earned her B.A. in Judaic Studies at Hofstra University, and continued her education at Long Island University where she earned a M.S. is School Counseling.  Lulu started her career focused on supporting individuals with developmental disabilities through two different non-profit human service organizations.  During this time, Lulu led over a dozen Birthright Israel trips, as well as more than five Jewish teen service-learning travel programs. 
Lulu joined the team at Temple Sinai 8 years ago as a Religious School Teacher and Teen Educator. In 2016 she accepted the full-time position of Director of Youth Engagement.   Lulu is thrilled to be counted as a mentor in the URJ's YP101 program for new youth professionals.  In addition, Lulu is a proud to be pursuing a Masters in Jewish Educational Leadership through HUC-JIR. 
From the Recipient:
"Knowing that together we are strengthening the Jewish community through positive relationships, creative programming and innovative ideas is what motivates and inspires me.  I feel blessed each day to work with the incredible teens and families of our community and know that together we will change the world!"
Reflections from Colleagues: 
"Temple Sinai takes pride in prioritizing teen engagement and programming. We are so proud of the way in which this department continues to grow and evolve under the vision and leadership of Lulu, and are grateful to the Jewish Education Project for its recognition." Rabbi Ilana Schachter, Associate Rabbi, Temple Sinai of Roslyn 
"The Young Pioneers Award brings a spotlight to the incredible work being done by Lauren Belferder at Temple Sinai of Roslyn. While Lulu is never one to seek accolades, she is certainly deserving of this honor! Youth Engagement in our community is thriving under her leadership. We feel blessed by her invaluable contributions to Temple Sinai. " Alison Stamm, YPA '12, Executive Director, Temple Sinai of Roslyn 
Video by Shulamit Photo + Video
---
YOUNG PIONEERS AWARD 2020 | LAUREN BELFERDER | CARLY NAMDAR | DINA NEWMAN | PHREDDY NOSANWISCH | JONATHAN SHMIDT CHAPMAN