Jonathan Shmidt Chapman - Young Pioneers Award 2020 Recipient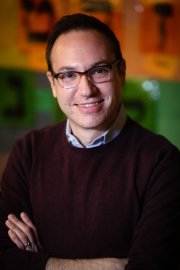 Jonathan Shmidt Chapman is the founding project director of Aggadah Adventures at Congregation Beit Simchat Torah (CBST), the country's largest LGBTQ synagogue. Aggadah Adventures brings Jewish stories to life through immersive, multi-sensory, and interactive theater for very young children and their families. The project was awarded a 2018 Ignition Grant and a 2019 Signature Grant from The Covenant Foundation. He was selected to participate in the 2018 Asylum International Jewish Artists Program, and he is the recipient of the 2019 inaugural Luminary Award for his contributions to the national field of theater for children, presented by New York City Children's Theater. As a writer and director, he has created theater productions for young audiences at The Kennedy Center, Lincoln Center, Seattle Children's Theater, and Abrons Arts Center. He is a graduate of the Masters Program in Educational Theatre at New York University, where his thesis work focused on exploring Holocaust education through theater. 
Jonathan's love of theater and his belief that the arts can transform communities began at an early age. As a high school student, Jonathan founded the first-ever drama program at Hebrew Academy of Nassau County and directed its first production. Nearly 20 years later, the program continues to thrive at the school. He is passionate about finding new ways to use theater as a vehicle for children (and their grownups) to learn about themselves, their world, and their Jewish identity. Outside of his work within the Jewish community, Jonathan serves as executive director of Theater for Young Audiences/USA (TYA/USA), the national organization for the professional field of children's theatre. He co-authored the report "Envisioning the Future of Theater for Young Audiences," published by the National Endowment for the Arts. Jonathan lives in Port Washington, New York with his husband David and their son Elior. 
From the Recipient: 
"I am inspired and honored to be awarded The Jewish Education Project's Young Pioneer Award. This recognition acknowledges the power that the arts can have in Jewish education and family engagement. This award encourages me to pursue my mission to introduce Jewish tradition to very young children through the power of theater."  
Reflections from Colleagues
"Congregation Beit Simchat Torah (CBST) has always used the arts to inspire deep Jewish engagement. We are so proud of the innovative ways that Jonathan has found to use theater and music to bring Torah to life for the youngest members of our community. Under his leadership, Aggadah Adventures has helped us build a vibrant community of babies, pre-schoolers, and their grownups at CBST. This award is a profound honor for our LGBTQS synagogue, where the mere idea of an education program for Families with Children was unthinkable 30 years ago. Now, our thriving education program is paving the way by creatively bringing Jewish tradition to life for all families." - Rabbi Sharon Kleinbaum D.D., Senior Rabbi, CBST  
Video by Shulamit Photo + Video
---
YOUNG PIONEERS AWARD 2020 | LAUREN BELFERDER | CARLY NAMDAR | DINA NEWMAN | PHREDDY NOSANWISCH | JONATHAN SHMIDT CHAPMAN