Dina Newman - Young Pioneers Award 2020 Recipient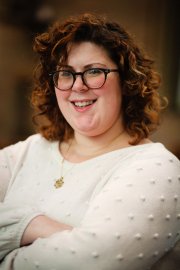 Dina Newman is the Associate Director of Youth Engagement at Congregation Rodeph Sholom on the Upper West Side. She is passionate about the intersection of contemporary popular culture, Judaism and the foundations of Jewishness. Despite being a self-declared Post-B'nai Mitzvah Religious School drop-out, Dina holds a Master's in Modern Jewish Studies from The Jewish Theological Seminary as well as a Bachelor's degree in Judaic Studies from The George Washington University. She is particularly passionate about contemporary Jewish identity and how Generation Z is engaging in and developing their own unique understanding of what it means to be Jewish.
In her close to five years at Congregation Rodeph Sholom, Dina has worked to expand upon a strategy of multiple avenues of engagement to create a meaningful transitional experience for students moving through middle school to high school.  Through the development of an innovative Post-B'nai Mitzvah Paid Internship experience students begin gaining office experience and a behind the scenes look at the way the congregation works as a unique opportunity that retains a large number of students following their B'nai Mitzvah. Interns are placed in departments including our Executive Director's office, the youth office, Sholom Sprouts Early Engagement program, Religious School, Security, Social Media, Congregational Programming & Engagement, and our Cantor's Suite. Dina has worked to make 7th and 8th grade an excited transitional moment into our teen programming through this as well as our 8th Grade New Orleans Service Learning Trip, Pop Culture Parsha Study experience called Cup of Joe & The 5 Books of Mo(ses), as well as an innovative formal 7th grade curriculum focused on Jewish identity formation.
Judaism isn't just her job it's what Dina does for fun, catch her ! She is also a pop culture aficionado and enjoys arguing that the Kardashians are a valid contemporary comparison to Joseph and his brothers because they're all just jealous!  Dina loves dogs (and has a large one named Ellie), is an avid reader (of contemporary Jewish literature especially), loves and lives with a videogame playing paralegal and is best friends with her Mom and older brother. When not at her desk in the youth lounge, Dina can most often be found in a silly costume, covered in frosting, sleeping on the synagogue floor or explaining why she has a  masechet of Talmud in her purse!
From the Recipient: 
"I can't even begin to fully express how grateful I am to receive the Robert M. Sherman Young Pioneers Award. To me personally, this award means that I'm making a difference with the unique work that I do and inspiring others as so many have inspired me over the years. But most of all, the fact that the Jewish Education world acknowledges innovation and creativity in this way means to me that we've come a long way from the stale Religious School experience so many of our parents had and are truly making an important shift in what it will mean for a new generation to be Jewish."
Reflections from Colleagues:
"Dina uses her passion and creativity to engage and connect with every student and family in our community.  She does this through her innovative interest based programming, trips, and modifying content or a program whenever needed so that it truly meets the needs of all of our youth and teens.  Dina is very deserving of this award.  We are proud of her and the work that she does every day at Rodeph Sholom." Kerith Braunfeld, Director of Religious Education and Youth 
Video by Shulamit Photo + Video
---
YOUNG PIONEERS AWARD 2020 | LAUREN BELFERDER | CARLY NAMDAR | DINA NEWMAN | PHREDDY NOSANWISCH | JONATHAN SHMIDT CHAPMAN