Phreddy Nosanwisch - Young Pioneers Award Recipient 2020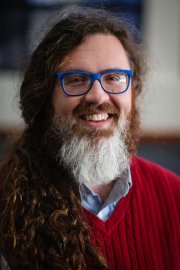 Phreddy Nosanwisch teaches spiritual technologies and Hebrew school at Conservative Synagogue Adath Israel of Riverdale in The Bronx, N.Y. He uses as many modalities as possible (including art, scent, music, film, movement, food, prayer and text) in Judaism to help connect his students to each other, their world, G-d and themselves in deeper and more life-affirming ways. He also teaches at the Fort Tryon Jewish Center in Washington Heights (where he is an active member) and is a full-time student at the William Davidson School of Jewish Education at JTS and is a current Wexner Graduate Fellow/Davidson Scholar. Phreddy graduated from Florida State University in 2001 with a BA in Classical Civilizations.
Before coming to Jewish education, Phreddy worked as a storyteller, wedding and karaoke DJ, journalist, bartender, waiter, cook, handyperson, musician, event producer, venue manager and flower salesman. He was once a frequent competitor in and host of Moth StorySLAMs in Detroit and Ann Arbor, Michigan. He loves people, talking, reading, snacking, making music, sleeping, being outside and laughing.
Phreddy and his best friend, Blair, are the joyful parents of Honi and Erev Willow.
From the Recipient: 
"I am so delighted and humbled that The Jewish Education Project has recognized my work. I want to share the honor with my students who inspire so much of my curriculum and bravely manifest it, and my teachers who continue to model for me how a pedagogy of love is the best blueprint for building knowledge and making positive change."
Reflections from Colleagues
"The entire CSAIR community is tremendously proud of Phreddy and honored that he is being recognized for his work in our Hebrew School.  Phreddy possesses an original and creative mind, disarming love and exuberance for Judaism and Jewish learning and leaves a lingering joy on all who have the opportunity to encounter him.  Phreddy is a unique force of good in the world and a true gift to his students, colleagues and to the field of Jewish education." Mason Voit, CSAIR Director of Education and Jewish Family Life
Video by Shulamit Photo + Video
YOUNG PIONEERS AWARD 2020 | LAUREN BELFERDER | CARLY NAMDAR | DINA NEWMAN | PHREDDY NOSANWISCH | JONATHAN SHMIDT CHAPMAN