Network Leader Spotlight: Naomi Kachel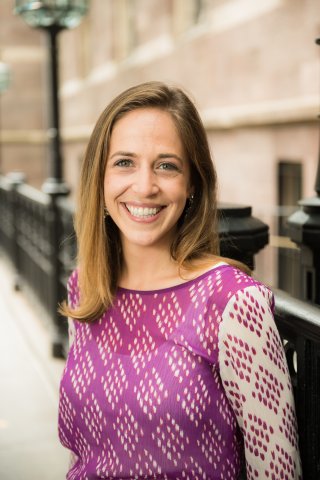 Naomi Kachel loves to learn. Her passion for stimulating conversation and intellectual debates led her to join the Titchadesh Network. In Titchadesh she is able to test out new ideas and learn from other full-time educators who work in leadership positions at synagogue schools. The network provides Naomi valuable advice for being successful as a Jewish professional.  
"I love networks because I love having these learning conversations," Naomi said. "I believe that it is important to have conversations that are outside of your own organization to gain perspective and a broader understanding of the field."  
Over the past three years, her Titchadesh peers have become trusted professional colleagues. For Naomi, the family engagement coordinator at Central Synagogue and director of Camp Central, network peers have taught her how to approach difficult situations and provided practical tips.
Being part of a network has provided Naomi with a professional haven. In Titchadesh, Naomi has found a safe place to talk with successes as well as failures. The camaraderie of Titchadesh is what makes the network a special place for Naomi.
"Having these important conversations about the holy work that we do has helped me build more confidence about my role," Naomi said. "Being part of the Titchadesh network has helped me learn to articulate the importance of my work in early childhood to others. It is inspiring to see how much effort, time and energy my colleagues put into having these conversations."
One of Naomi's most important takeaways from Titchadesh has been learning the fundamentals of the PERMA model of happiness. She credits Titchadesh facilitator Jo Kay for making PERMA a core component of Titchadesh's framework. Learning about PERMA has helped Naomi forge stronger connections with students and families at Central Synagogue.
During the 2019-2020 school year, Naomi will add a new responsibility to her network role. She will be a co-facilitator of a new network for directors of Jewish camps with Yael Kahn Pinto, an early childhood educational consultant at The Jewish Education Project.
When Naomi joined Titchadesh, she hoped to find a community of like minded Jewish educators. Her passion, energy, and commitment has brought new energy to the network and helped her invigorate her curriculum and professional practice.
NETWORK LEADERS OVERVIEW | MINDY GOLD | SHARON SOLOMON | RABBI GARY GREENE | NAOMI KACHEL
Suri Jacknis is Director of Educator Networks for The Jewish Education Project. Gabriel Weinstein is Project Manager, Digital Content and Communications for The Jewish Education Project.